HAPL Offshore Reception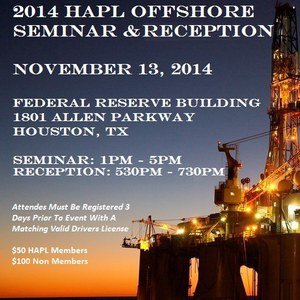 Parking Map:

FRBMapDirections.pdf
The 2014 HAPL Offshore Reception will be held on November 13, 2014 at the Federal Reserve Building.
*If you are signed up for the seminar you DO NOT need to sign up for the Reception. If you DID NOT attend the seminar but would like to go to the Reception, you WILL need to register for the Reception.
Registration is required 3 days in advance. NO LATE REGISTRATIONS!
*****YOU WILL NEED TO BE ON THE LIST TO ATTEND & YOU WILL NEED YOUR DRIVERS LECENSE TO GET INTO THE SEMINAR*****
*****YOUR REGISTRATION NAME MUST CORRESPOND WITH YOUR DRIVERS LICENSE*****
Event Files
When?
5:30 p.m. - 7:30 p.m.
(GMT-0600) US/Central
Where?
Federal Reserve Building - Houston
1801 Allen Parkway
United States
Drivers license will be required to attend. Must be registered to attend.