HAPL 12th Annual NGL Bridging the Gap Summer Social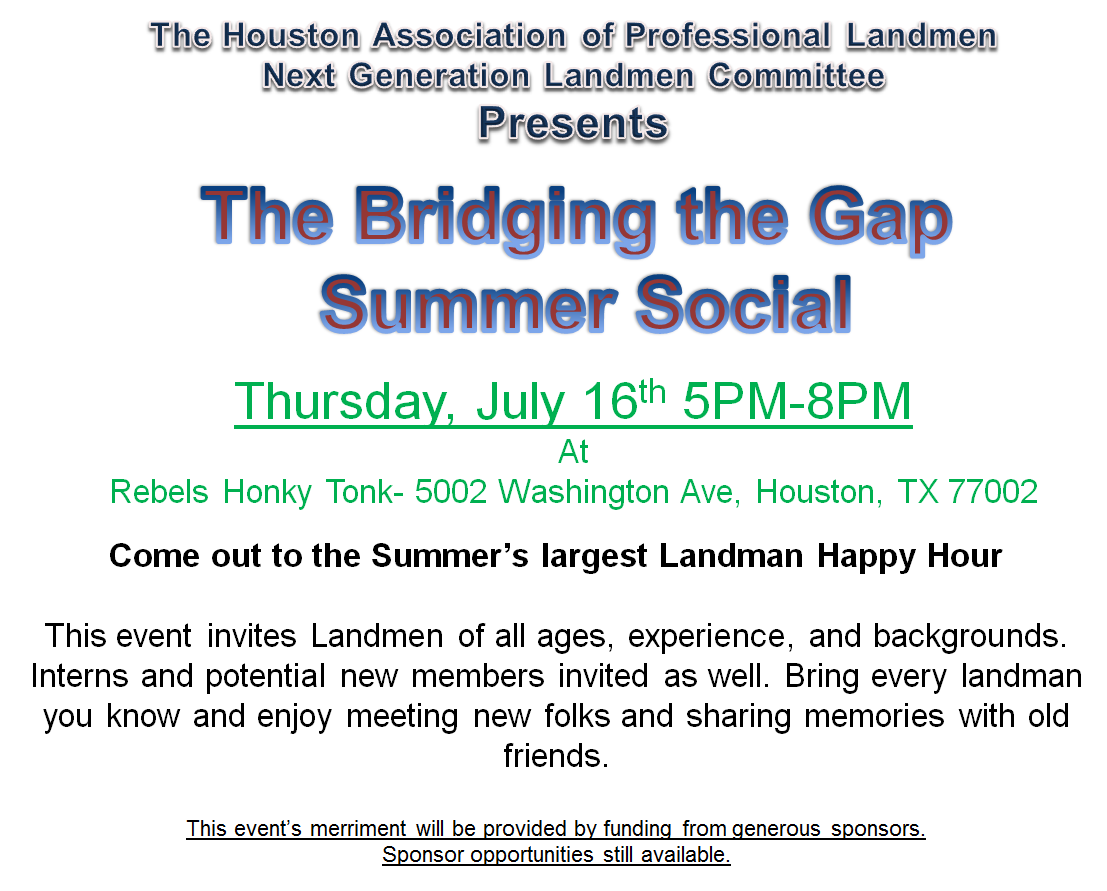 Sponsor Levels:
Silver Level sponsor: $250+
Recognition at event on sponsor banner
Recognition on HAPL website and Newsletter
Gold Level sponsor: $500+
All perks of Silver Level sponsor
Recognition on HAPL event reminder emails
Platinum Level Sponsor: $1000+
All perks of Gold Level Sponsor
Ability to provide company gift items and/or a reasonably sized company banner to display at event
To sponsor this event, please fill out the sponsor form below:

2015_NGL_Sponsor_Form.docx
Thank you to the following sponsors who have sent in their sponsorships!
Platinum Sponsors
EP Energy
Purple Land Management
Gold Sponsors
Occidental Petroleum Corporation
Peregrine Petroleum Partners
Newport Land Services
T. S. Dudley Land Company
Dupuis & Polozola
Slattery, Marino & Roberts
Silver Sponsors
Kiefaber & Oliva
Alamo Resources
Repsol
BHP Billiton
RAE Land Services
Crevalle Energy
Gordon Arata McCollam Duplantis & Eagan
Bode & Werner
Ensley Properties
Black Oak Land Management
Organizer HAPL
Matthew Bruns, RPL
Senior Landman
EP Energy E&P Company, L.P.
1001 Louisiana St., 2775D
Houston, TX 77002
Office: (713) 997-3205
Cell: (281) 382-3941
When?
5 p.m. - 8 p.m.
(GMT-0600) US/Central
Where?
Rebels Honky Tonk
5002 Washington Ave.
United States