HAPL 21st Annual Offshore Reception
If you are registered for the seminar you DO NOT need to register for the reception. If you are not attending the seminar but wish to attend the reception then YOU WILL need to register.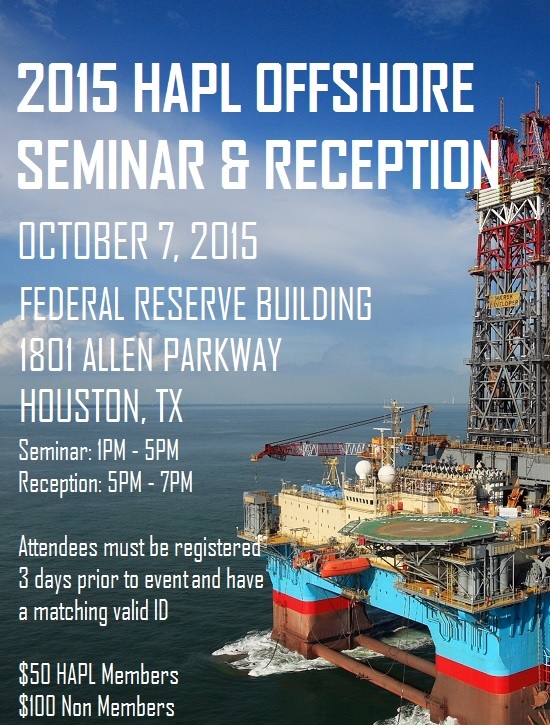 Registration is required 3 days in advance. NO LATE REGISTRATIONS!
YOU WILL NEED TO BE ON THE LIST TO ATTEND & YOU WILL NEED YOUR DRIVERS LECENSE TO GET INTO THE SEMINAR
YOUR REGISTRATION NAME MUST CORRESPOND WITH YOUR DRIVERS LICENSE

FRBMapDirections.pdf
Organizer HAPL
Bailey M. Smyth
Business/Land Department
Eni Petroleum US LLC
1200 Smith, Suite 1700
Houston, TX 77002
Direct: 713-393-6136
Fax: 713-393-6208
<
p>Bailey.Smyth@enipetroleum.com>
When?
4:30 p.m. - 6:30 p.m.
(GMT-0600) US/Central
Where?
Federal Reserve Building - Houston
1801 Allen Parkway
United States
Drivers license will be required to attend. Must be registered to attend.