Sponsorship & Registration:
• Sponsor Today!! Sponsorship Form
• Sponsorship Deadline: September 30th at noon!
• You must register by noon on the 30th if you want your name in the program.
• Registration rates increase after September 30th
*Walk-ups will be allowed to register the day of the event at the registration table.
Discussion Panel:
"Factors Affecting the Oil & Gas Industry Today and Where We're Headed"
Our guest speakers will be discussing the effects the recent downturn has had on the A&D marketplace; as well as financial, political, technological and economic trends affecting the E&P industry.

Panel Members:
• Moderator - Ronald K. Barnes, President, Oil & Gas Clearinghouse
• Speaker - Phillip S. (Scott) Frost, Senior VP and CFO, Netherland Sewell
• Speaker - Allen Gilmer, Co-Founder, Chairman & CEO, DrillingInfo
• Speaker - Michael Darden, Partner, Latham & Watkins LLP
Event Parking Information:
It is recommended guests use the East Valet Entrance on the side of Avenida De Las Americas, directly across from the Convention Center, or the parking garage adjacent to the hotel.

Due to ongoing construction in the area, please be sure to allot yourself enough time to get downtown for this event. As an alternative to driving, it is recommended guests Uber or carpool.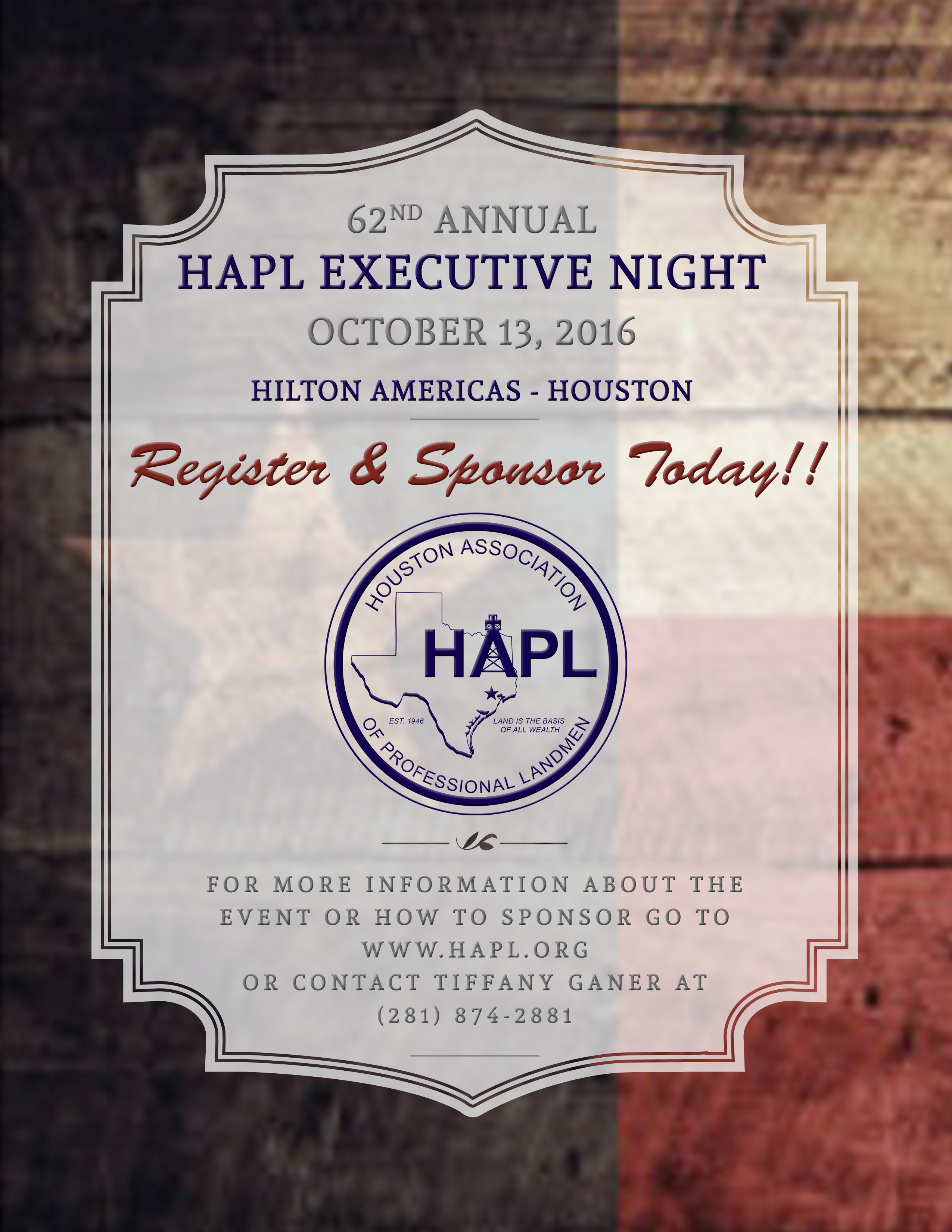 Sign up today to become an HAPL member and get member pricing on future HAPL events!
If you make a reservation, pay for it, and later decide to cancel it before the reservation deadline, October 7, 2016, you can apply for a refund through the HAPL Office. We must receive your request to cancel your registration in writing by email at
hapl@hapl.org
or fax at 713-622-3723. You will receive the total amount charged minus a $5.00 credit card processing fee.
When you request a refund, include the credit-card number that you used to pay for the reservation and the confirmation e-mail you received when you paid. If you have lost that e-mail, send as much information as you can about the name and date of the event, the date that you paid, and how much you paid. Refunds cannot be made for reservations that were paid for, but not cancelled before the reservations deadline. When that happens, you are considered a no-show.
All pre-registered members/guests for this event that have not prepaid and do not attend will be billed as a no-show.