63rd Annual Executive Night
When: Thursday, October 5, 2017
Reception: 4:30-6:30 and Dinner: 6:30-8:30
Where: Hilton Americas Downtown - 1600 Lamar St, Houston, TX 77010 - 4th Floor Grand Ballroom A-F
Speaker: Tim Duncan, President & CEO of Talos Energy LLC
Sponsorship Deadline: September 22nd by 5:00 Executive Night Sponsor Form
Sign up today to become an HAPL member and get member pricing on future HAPL events!
Organizer - Daniel Negron at (972)-898-4112 or danielnegron03@gmail.com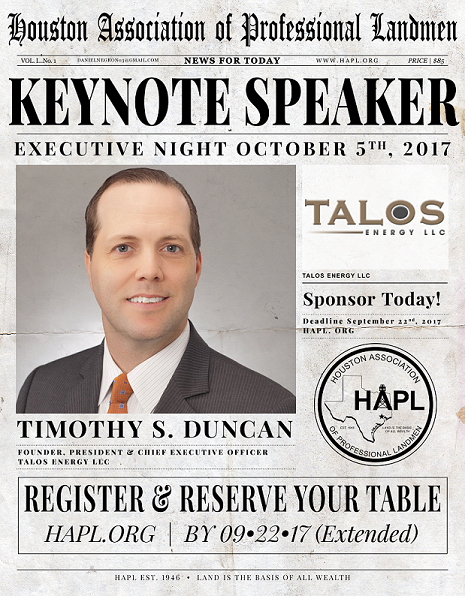 If you make a reservation, pay for it, and later decide to cancel it before the reservation deadline, September 28, 2017, you can apply for a refund through the HAPL Office. We must receive your request to cancel your registration in writing by email at
hapl@hapl.org
or fax at 713-622-3723. You will receive the total amount charged minus a $5.00 credit card processing fee.
When you request a refund, include the credit-card number that you used to pay for the reservation and the confirmation e-mail you received when you paid. If you have lost that e-mail, send as much information as you can about the name and date of the event, the date that you paid, and how much you paid. Refunds cannot be made for reservations that were paid for, but not cancelled before the reservations deadline. When that happens, you are considered a no-show.
All pre-registered members/guests for this event that have not prepaid and do not attend will be billed as a no-show.