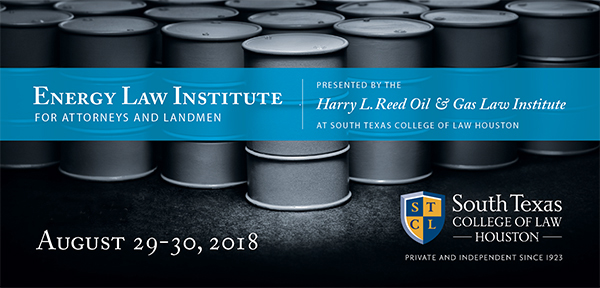 If you plan to register a group of 10 or more attendees, please contact Ty Williams for discounted registration information.
DESCRIPTION
31st Annual Energy Law Institute presented by the Harry L. Reed Oil & Gas Law Institute at South Texas College of Law Houston
Wednesday and Thursday │August 29-30, 2018
Join us for the 31st Annual Energy Law Institute for Attorneys and Landmen, a two-day event packed with essential topics for all practitioners in the oil and gas industry.
Attendees will hear from experts on the following:
• The Latest on Hydraulic Fracturing in Texas and Beyond
• Oil & Gas Allocation Wells
• Legal Updates from Texas, Louisiana, and Appalachia
• Nuisance and Other Land Use Issues in Oil & Gas Practice
MCLE INFORMATION
Obtain virtually all your MCLE hours in two days. You will obtain practical tools and techniques you can apply immediately to help best serve your clients and business for one of the lowest rates in Texas!
DATE AND TIME
August 29, 2018
8:30 a.m. – 4:30 p.m. (working lunch)
August 30, 2018
8:30 a.m. – 4:30 p.m. (working lunch)
HOTEL RESERVATIONS
Special rates are available for Energy Law Institute attendees at the following hotel
Hotel Alessandra
$189 per night
Reservation should be made online via this link
TENTATIVE SCHEDULE

Wednesday, Aug 29, 2018
8:30 -9:30 a.m.
Texas Case Law Update
William Burford/Kelly, Hart & Hallman
9:30 -10:30 a.m.
Current Issues Under the Louisiana Law of Oil & Gas
Patrick Ottinger/Ottinger & Hebert
10:30 – 10:45 a.m. Morning Break
10:45 – 11:45 a.m.
Technology Trends & Issues for Shale Operators
Joe Dancy/OU College of Law
11:45 a.m. – Noon Break for Lunch
12:00 – 1:00 p.m.
Ethics #1: Tell Them You're a Lawyer-Communication & Arbitration Ethics
Odean Volker/Haynes & Boone
1:00 – 2:00 p.m.
Working Interest Disputes
Patrick Ottinger, Ottinger & Hebert
2:00 – 2:15 p.m. Afternoon Break
2:15 – 3:15 p.m.
Production Sharing Agreement & Allocation Wells
Greg Methews, Chevron
3:15 – 4:15 p.m.
Appalachian Update
Andy Graham/Steptoe & Johnson PLLC
Thursday, Aug 30, 2018
8:30 – 9:30 a.m.
Pooling, Unitization, and Community Leasing
Chris Halgren/McGinnis Lochridge
9:30 -10:30 a.m.
Fracturing in Texas and Beyond/GR&M
Paul Yale/Brooke Sizer
10:30 – 10:45 a.m. Morning Break
10:45 – 11:45 a.m.
Panel Discussion: Allocation Wells & PSA Permitting/Drilling
Phillip Jordan/GR&M Mandy Selber/Rockcliff Energy; Kelli Kenney/MSMW; Shandy Robl/BP
11:45 – Noon Break for Lunch
12:00 – 1:00 p.m.
Ethics #2 The Unethical Landman
Drew Potts/Kirby, Mathews & Walrath
1:00 – 2:00 p.m.
Recent Developments in Nuisance Law
Michael Mazzone, Haynes and Boone
2:00 – 2:15 p.m. Afternoon Break
2:15 – 3:15 p.m.
Title Due Diligence
Randy Sadler, Sadler and Associates
3:15 – 4:15 p.m.
Land Use Issues in Oil & Gas Practice
Prof. Matt Festa, South Texas College of Law Houston