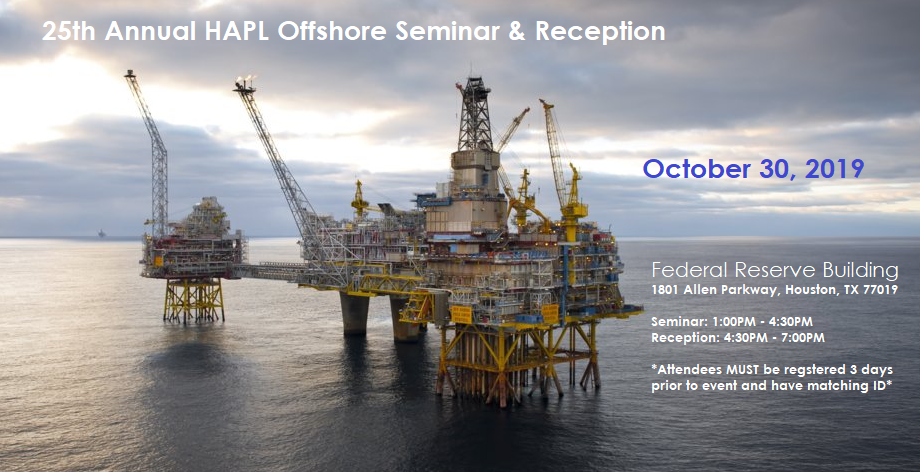 2019 HAPL Offshore Seminar & Reception Agenda:
Doors open at 12:30 PM – Seminar commences at 1:00 PM
1:00 – 1:30PM
Welcome Address and Bank Speaker
1:30 – 2:15PM - Jason Levine
The Trouble with Emojis, Emerging Legal Issue and Proposed Business Responses
2:30 – 3:15PM - Bradford Laperouse
Issues Under the JOA: Pref Right & Consents. What triggers a pref right?
2:15 - 2:20PM - Break
3:15 – 4:00PM - Jason Hill
Hot Topics from Washington
4:00 – 4:30PM - William R. Daugherty
Privacy Data Protection and how it affects our industry
*Additional Questions
4:30 - 7:00PM - Reception
Credits:
4 CPL/RPL credit will be available.
If you make a reservation, pay for it, and later decide to cancel it before the reservation deadline, October 28, 2019, you can apply for a refund through the HAPL Office. We must receive your request to cancel your registration in writing by email at
hapl@hapl.org
or fax at 713-622-3723. You will receive the total amount charged minus a $5.00 credit card processing fee.
When you request a refund, include the confirmation e-mail you received when you paid. If you have lost that e-mail, send as much information as you can about the name and date of the event, the date that you paid, and how much you paid. Refunds cannot be made for reservations that were paid for, but not cancelled before the reservations deadline. When that happens, you are considered a no-show.
All pre-registered members/guests for this event that have not prepaid and do not attend will be billed as a no-show.
Both the Seminar and Social will be held at the Federal Reserve Building located at 1801 Allen Parkway, Houston.
This is a great opportunity to learn and network and we are seeking sponsors for this year's event which is 100% supported by sponsorship by companies in the offshore land community. All sponsoring companies will be prominently displayed at the event, with the company name and level of sponsorship. Additionally, the sponsor information will appear in the HAPL Newsletter and other publications. The following sponsorship levels are available:
Diamond $2,500 Platinum Level $1,250
Silver Level $500 Gold Level $750
Bronze Level $250
HAPL sincerely appreciates your contributions and hopes we can count on you this year. Your commitment at one of the above sponsor levels will be greatly appreciated. To receive acknowledgement at the event for your sponsorship, please submit your sponsorship pledge by October 18th with payment to be made no later than October 18th. Please make checks payable to HAPL, noting "2019 HAPL OCS" on the check and send to:
2019 HAPL Offshore Seminar and Social
C/o Bailey Coe, W&T Offshore, Inc.
Nine Greenway Plaza, Suite 300
Houston, Texas 77046
If you have any questions, please do not hesitate to contact me. With your support as a sponsor, the 2019 HAPL Offshore Seminar and Social will continue to be one of Houston's superior networking events for Offshore Gulf of Mexico industry professionals.