Service Volunteers Needed!
Please Register to join the HAPL Service Committee on Saturday, May 7th for our Final Service Project of the Term!! We will be helping Casa de Esperanza de Los Ninos ("Casa") with some outdoor projects needed in their community.
Current needs include:
Clean, varnish, coat doors
Cut bamboo
Move cement slabs
Move picnic table from neighborhood to office
To protect the children in the care of Casa, all volunteers must be fully vaccinated against COVID-19 (including booster, if eligible).

Mission
Casa de Esperanza de los Ninos strives to break the cycle of child abuse and neglect for at-risk infants, children and their families by providing comprehensive residential and family support programs that transform people and communities.
Support
Services are provided at no cost to our families, through the generosity of our supporters, and without government funding or United Way funding.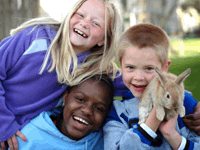 Our Children
When Casa de Esperanza first opened, the plan was to provide a safe place for families in crisis to leave their children until the crisis was resolved, at which time the family would take their children home to a safer, more stable environment. Since then Casa de Esperanza has cared for over 6,200 children and their families.

Casa de Esperanza provides safety, hope, and a home to children whose families are affected by domestic violence, substance abuse, poverty, homelessness and mental illness. Children ages birth to six years are admitted. Referrals are received from family shelters, hospitals, and Children's Protective Services.

The Effects of HIV
Since admitting our first HIV exposed child in 1986, we have remained committed to including children affected by HIV/AIDS in our mission of providing hope and a home to children in crisis. At Casa de Esperanza these children are cared for like all others.
Our Community Volunteers
Soon after Casa de Esperanza's inception, people in the community became aware of Casa's efforts and wanted to become involved in our mission. A bookkeeper, doctor, mechanics, plumbers, electricians, and painters, all donated their service. Others contributed numerous hours of childcare service in the houses, organized special events and generally helped Casa de Esperanza to grow step by step into its present organization.

Many more volunteers have followed, offering their services wherever needed. Companies and community organizations have also chosen Casa de Esperanza for volunteer projects.
It is the generosity of these volunteers that has allowed Casa de Esperanza to grow and to serve abused, neglected and HIV positive children and their families since 1982.